SVA Alumnae . . . join us for our upcoming events!
Cocktails & Conversations @ Tubby's in Thunderbolt
Wed, Sept 28 @ 5:30pm
Alumnae tailgate @ BC's Homecoming Game - Memorial Stadium
Fri, Oct 14th @ 5:30pm
Cocktails in the Courtyard
Sun, Nov 13th @ 5:00pm
The SVAA continues to support our alma mater through student scholarships. Please consider joining the SVAA to help maintain these scholarships and provide other young women the opportunity of an SVA education. Go to
https://alumnae.svaga.net/
  to join.
Alumnae Board Meetings:
Board meetings are the second Tuesday of each month at 6 p.m. from August to May. The by-laws state that all interested members of the alumnae association are welcome to attend each month.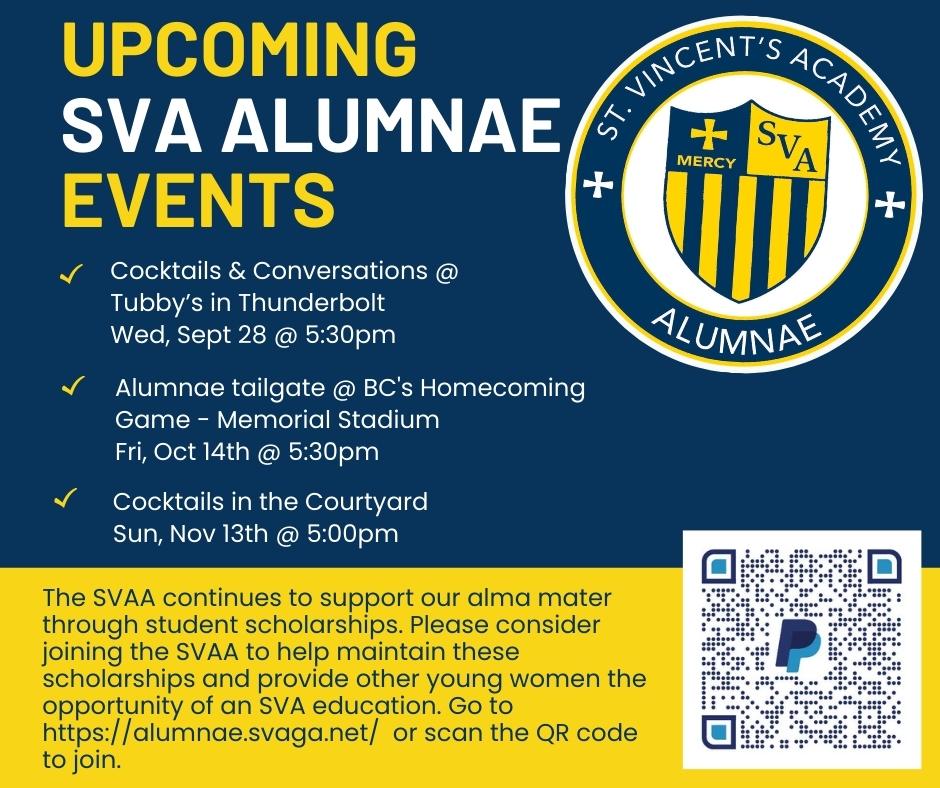 Reunions
St. Vincent's Academy is more than just a school. It's a sisterhood. Our alumnae are a tight-knit group, and we love seeing them gather to catch up and celebrate all they have achieved in our community and beyond.
Recent reunions have included receptions at venues like St. Vincent's Dressel Hall, B. Tillman, Tubby's Thunderbolt, and Moon River Brewing.
To make sure you receive reunion information or for help planning your reunion, please contact Loretto Lominack at loretto.lominack@svaga.net.
Whether your class is marking 10, 15, 20 years or beyond, we are here to help. If your class is planning a reunion, please contact Loretto Lominack, Director of Alumnae Affairs, at loretto.lominack@svaga.net or 912.226-1727.